This Floyd Rose Fat Brass block will add mass and sustain to your Floyd Rose bridge along with the tonal qualities of brass.
Works with Floyd Rose Original, Non-Fine Tuner, 7-String*, 1000 Series*, and Special* tremolo systems. The width is 50.15 mm and the thickness is 12.90 mm.
Brass has been a much-desired material for guitar luthiers dating back to the invention of the instrument; it is notorious for increasing warmth and clarity simultaneously, a rare combination.
While greatly strengthening chord clarity and beefing up individual tones, it also greatly improves resonance, especially in the midrange of the instrument. These improvements are accompanied by the undeniably vintage sound and feel of this time-tested material.
Since this block is larger than a conventional sustain block, it can also limit the upward travel of the tremolo and can be set to rest against the body in a blocked bridge configuration. This block may require some routing in the spring cavity for a floating bridge setup.
*The Special 7-String Tremolo Systems have a sustain block mounting hole spacing which is unlike any of our other systems – for this reason, they can only function with their factory-installed sustain blocks. These blocks will NOT function on the 1000 Series Pro 7-String!
About Floyd Rose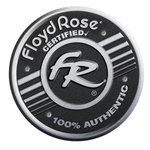 With the invention of the world's first locking vibrato system in 1977, Floyd D. Rose completely revolutionised the electric guitar, and with it a whole new generation of players. 40+ years later Floyd Rose offers a vast array of replacement vibrato systems, upgrades and spares, and are used and trusted by some of the most influential and famous guitar players on the planet.